Why Certify?
The following table is taken from the March, 2009 American Religious Identification Survey [ARIS] report [1]. The column on the right contains data from 2008; in particular, note the Total Christians row: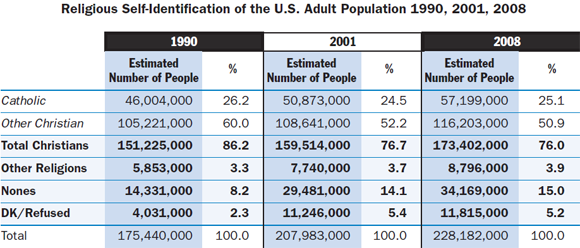 173,402,000 people. Get certified, and you can reach them. How else can you so immediately and effectively appeal to such a large community?
Apply for OVerus certification today, and we will be happy to provide you with more detailed demographical and marketing information.
1. Barry A. Kosmin and Ariela Keysar, American Religious Identification Survey [ARIS 2008] Summary Report, Trinity College, Hartford, CT (March 2009). Pg. 3. Accessed 11/5/2009 from
http://www.americanreligionsurvey-aris.org/reports/ARIS_Report_2008.pdf. Displayed here with permission.
Requirements
Here are the basic certification requirements.
First, the essence of the brand is evaluated. What is this product? The OVerus Organization has created three categories, into one of which all brands fall:
Acceptable. Products/Services are numerous and make up the majority of goods produced. Food, clothing, cars, real estate, newspapers, airline tickets, taxi rides, accounting services, travel arrangements, and pizza are just a few of the products/services in this category.
Debatable. There is disagreement among the Christian denominations about some products and services, such as cigarettes. OVerus has decided to err on the side of caution, and currently items in this category cannot be certified.
Ineligible. Products and services that disregard Christian values, such as pornography. These are not eligible for certification.
Next, candidates for certification are then evaluated against the following criteria:
Feed the hungry
Give drink to the thirsty
Welcome a stranger
Clothe the naked
Care for the sick
Visit those in prison
Brands are expected to support at least one of these six teachings.
Please note that OVerus reserves the right to deny certification to any brand, based on an internal evaluation. Each brand must be treated individually, and advice of board members is invaluable in making recommendations and decisions.
Certification Process
START THE OVERUS CERTIFICATION PROCESS. Complete the online inquiry on our Apply page.
AN ACCOUNT EXECUTIVE (AE) WILL BE ASSIGNED TO HELP YOU. The AE will be your designated point of contact at The OVerus Organization. They will be available to answer your questions, address your needs, and guide you through the certification process. They will contact you within five (5) business days of your submission.
COMPLETE AND SUBMIT THE OVERUS APPLICATION. See our forms page for downloadable, electronic versions of these forms.
DOCUMENTATION REVIEW. Your application and inspection report will be reviewed by your Account Executive who will advise you whether or not OVerus can grant certification. In some instances adjustments may be required for certification to be awarded.
LEGAL CONTRACT. The Account Executive will present a legal contract which specifies the certification agreement. If acceptable to you the contract is signed and returned to OVerus and a letter of certification is sent to you.
FINAL APPROVAL. You may then sticker or affix the OVerus emblem to your products and submit your labels for final review.
CONGRATULATIONS! You have now joined a family of companies which proudly carry OVerus ~ The Christian Business Emblem.
Confidentiality
The OVerus Organization observes the strictest levels of confidentiality. We are extremely sensitive to the needs of all the companies that we work with and respect the propriety nature of donee information.
The OVerus Organization does not sell or reveal in any way your information to any other entities. All information that you supply is used for OVerus eyes only.
It is natural that you may have concerns about sharing information with OVerus. Please be assured that all of the information you provide will be held in strict confidence. In fact, our promise of confidentiality is clearly stated in all of our certification agreements.
OVerus requires disclosure of some proprietary information because the certification process insists on awareness of the charitable beneficiaries of all companies that manufacture or provide products or services that we certify.
If you have any questions regarding confidentiality please do not hesitate to contact us with your concerns.
Fees
Annual certification fees generally range from USD$500 to $3,000.
It should be noted here that the annual certification fee is always considered an advertising expense. Although tax laws vary by state, advertising expenses are normally tax deductible at a federal level--but do check with your accountant.
Note that The OVerus Organization donates 12% of gross income to organizations that support the Judgment of Nations: feed the hungry, drink to the thirsty, clothe the naked, welcome a stranger, care for the sick, and visit those in prison. 2% to each.
* Note: OVerus reserves the right to deny certification to any brand. There is no application fee.
Corporate Responsibility
OVerus offers brands a unique opportunity for corporate responsibility
This certification stands for values that are hard to argue with. They collectively represent a level of community involvement that is comparable to any other cause in the world.
We live in an age where corporations are constantly in focus; where every slip or sleight makes headlines. OVerus offers an easy way for corporations to show their concern and care for those in need.
Even if the Biblical roots of the OVerus certification are set aside, the individual causes stand on their own: feed the hungry, drink to the thirsty, welcome a stranger, clothe the naked, care for the sick, and visit those prison. Any of these is represented by several national and international community service organizations
Show the world know that your brand is good corporate citizen through OVerus® certification.